"Appreciation is a wonderful thing: It makes what is excellent in others belong to us as well." Voltaire (1694 – 1778)
Four billion people watched the Beijing Olympics opening ceremony, significantly more than watched any other recent TV program. Perhaps the Olympic Games have an inexplicable magic such that even people like my mother who do not follow sports closely are unable to take their eyes off the TV broadcast. Last Friday, I invited some friends to enjoy the game at my place. Regardless of our different ethnicities, backgrounds, and professions (i.e. psychologists, teachers, managers, and investment bankers), the reaction we had to the matches was the same – appreciation, admiration, and ecstasy.
"Olympic Positive Emotions"
These different positive emotions emerge not just from one's support to one's home country. These emotions are derived beyond the boundary of races and countries: I would call this the "Olympic Positive Emotions" phenomenon. From my point of view, this phenomenon originates from our innate tendency to appreciate things that are beautiful and great. This appreciation of beauty and excellence is suggested by Christopher Peterson and Martin E.P. Seligman (2004) to be one of the 24 strengths that could be found in us. According to the authors, we are able to notice and appreciate beauty, excellence, and/or skilled performance in various domains of life, from nature to art to mathematics to science to everyday experience.
Why do we so strongly appreciate the Olympic Games? I propose that there may be three sources for our appreciation of the beauty of the Olympic Games, all of which I have observed in myself:
1) Appreciation of aesthetics
2) Appreciation of the players
3) Appreciation of friendship and peace
1) Appreciation of Aesthetics
The first and the most obvious source of our appreciation is the sense of aesthetics when we see magnificent moves or turns in artistic events such as gymnastics and diving. We cannot stop our praise of the players that finish difficult routines with ease and beauty. Besides, the excellent and devoted performances of the players during the games also win our thundering applause. This instinctive appreciation of the beauty of sports may even be greater than our affections to our home country. We often clap for players from opponent teams for their excellent spikes during ball games such as table tennis, badminton, or tennis, and we give our genuine admiration and respect for teams who played splendid matches no matter what the final results were.
2) Appreciation of the Players
Moving beyond the games or the sports per se, we also appreciate athletes who are dedicated to give their very best to the audience. We are able to experience the players' efforts, devotion, concentration, determination, and their persistence towards goal pursuit when they are playing, as well as from their reactions after the games. When we share their happiness on the medal podium, we are not simply happy for them because of the medal reward, but also because we recognize their thousands of hours of training and the efforts behind their glory. As John F. Kennedy said, "The ancient Greek definition of happiness was the full use of your powers along lines of excellence." The happiness and positive characters of the athletes are also the sources of positive messages and emotions that are transmitted to everyone. For examples of the players at their best, see my article about Michael Phelps or Caroline Miller's article about Dara Torres.
3) Appreciation of Peace and Friendship

Lastly, we also appreciate the friendly and peaceful atmosphere of contesting that is found in the Olympic Games. This is something broader than the event or the sports as it is the wish of all mankind: Friendship and Peace, the traditional Olympic spirit. This is demonstrated in the congratulations and praise from opponent players and coaches, and in support from the audience to the winners and, more importantly, to the losing side. This tone highlights and advocates the positive characteristics of humankind and thus also elicits our positive emotions. As the host of the Olympic Games, it is not surprising that the stadium would be enthralled whenever Chinese players are present. Yet I am also amazed to see the Chinese also show their support and encouragement to other players from different countries, and I thought, "Yes, this is the world and community we should live in." I am really proud of being a Chinese as well as a part of the global community.
Some people wonder if the idea "Competition comes after friendship" contradicts with the spirit of sport contests, but I surely disagree. Because if the Olympic Games, or any other sports event, are just about winning and include many unethical incidents, the events would not be as worthwhile of being appreciated nor as touching to one's heart.
"Everyday Positive Emotions"
The 2008 Olympic Games will end with praise and applause within one week. However, the human insights from the event – like the appreciation of beauty and excellence, strengths stories of different players, and the spirit of friendship and peace – may last long and we may continue applying these to our everyday lives. You may have a different inspiration than I have, but I say that the most important thing we can do is to extend the "Olympic Positive Emotions" phenomenon to the "Everyday Positive Emotions" phenomenon.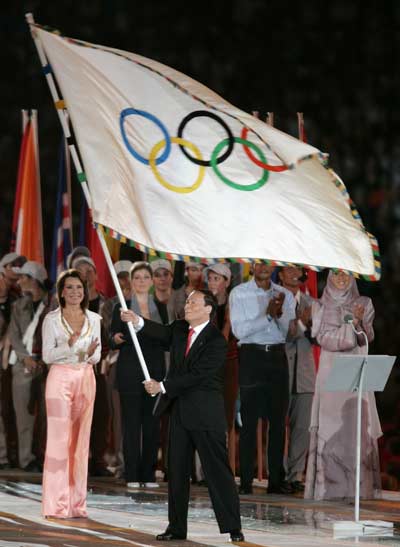 ---
References:
Peterson, C., & Seligman, M. E. P. (2004). Character strengths and virtues: A classification and handbook. NewYork: Oxford University Press/Washington, DC: American Psychological Association.