Strengths Based Leadership: Great Leaders, Teams, and Why People Follow
with Barry Conchie.   (
Part I here
).  I learned that the 34 themes of talent outlined in StrengthsFinders 2.0 are now sorted into four domains of leadership strength: 
Executing, Influencing, Relationship Building, and Strategic Thinking
. Rath and Conchie bring these leadership strengths to life by interviewing four highly successful organizational leaders who each lead from a very different domain.
Margaret: To illustrate the four leadership domains (Executing, Influencing, Relationship Building, and Strategic Thinking) you interviewed four highly successful organizational leaders.  Can you tell our readers more about that?
Tom:
They're people that I have admired for a long time and they were just night and day different in the way they interacted with people and built their organizations. From the minute I sat down with Wendy Kopp (Founder and CEO of Teach for America) she oozed the Achiever theme. She guided me through how she methodically worked on her to-do list from day, to week, to month, to year until she had built that organization essentially from scratch.  Within 12 months of writing her thesis she was on the front page of the New York Times, recruited 500 teachers in California, and raised over $2.5 million.  I'm still blown away by that.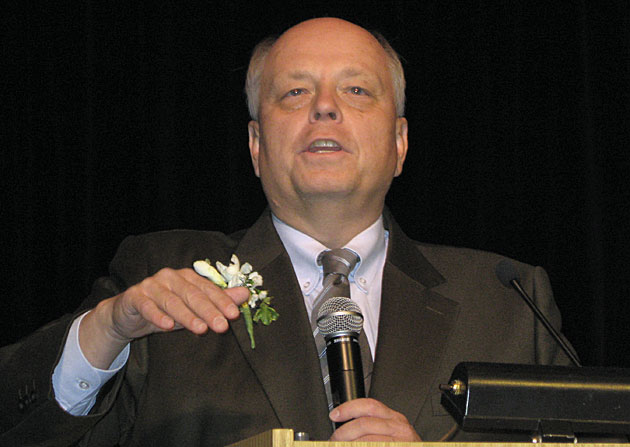 And Brad Anderson (CEO of Best Buy) is a very different guy.  He's a big-picture thinker.  He's all about 'Where are we going to be in 10 years?' and, 'What do we need for the future?'
But the interview that was really striking for me was Mervyn Davies (Chairman of Standard Chartered Bank). When you think of a chairman of a large global bank in the UK you don't think of a guy that leads with relationships. He talked about how the well-being of 70,000 families is depending on the company. I interviewed some of his direct reports and they described how Mervyn was there for them when they had a real personal challenge.  To build a global bank like that and do it all through a pretty heavy relationship orientation was really neat to see.
Margaret:  Did you find any common strengths among leaders?
Tom: No. That's been one of the big takeaways for me.  We don't see much of any consistency when we look at the most successful leaders.  I've yet to see two that have a very similar profile in terms of their top 5 strengths. In the general US database we see more themes of Learner, Relator, and Achiever, but not necessarily among leaders.
Margaret:  One question I am frequently asked by leaders I work with is how can we get employees to think beyond their department, beyond their function, and collaborate more with other areas in order to better execute and get the work done? How would you answer that question?
Tom: It might sound somewhat elementary, but just do some basic things to ensure people are talking.  I know this doesn't happen anywhere near as much as it should, but just sit down, ideally face-to-face, and get to know the people that you're going to be interfacing with on a regular basis. Spend a little bit of time talking about their strengths so they know what they each can contribute is important. I'm amazed at how often teams are formed, and that just doesn't take place at all. Companies should see the value in doing that, if for no other reason than for the sake of speed. For example, I have four or five close relationships here at work. I can communicate something to them, or they can communicate to me, in 10 or 15 seconds versus 10 or 15 minutes if I didn't have that close relationship.
Margaret:  Now that you've sorted the 34 themes of talent into the four leadership domains it would be interesting to look at a team's make-up and see if they have any of the Relationship Building strengths.  Maybe that plays into how collaborative people will be?
Tom: It's a great point. A lot of the top leadership teams we've worked with have been most thin in the area of Relationship Building. I know that I thought about that a lot a couple of years ago with my own team.  I have someone on my team who is ten times better than I ever will be at keeping us cohesive and building relationships. So I said to her explicitly 'I may be the one managing the team, but I know you're better at doing this'. And today she's done so much to help us build a better environment with even a broader group of people.
Margaret:  Now that you've published Strengths Based Leadership, what are you working on?
Tom:  We're doing a lot of work trying to connect how engaged employees are on the job and when people have a chance to use their strengths, how that relates to outcomes that are more about one's own physical health.  We have a few experiments underway where we've been looking at when people become more engaged in their jobs, what happens to their total cholesterol levels, the tri-glyceride in their bloodstream, and their cortisol or stress hormone levels.  As much as productivity, profitability, customer scores, and turnover are important to organizations, and I'd call those hard or concrete metrics for companies, I think that our physical health is one means to look at pretty concrete outcomes for individuals.
Margaret: And for the company it would translate into healthcare costs which continue to be one of the largest expenses for most companies.
Tom: I think that's a big part of it.  We're trying to figure out exactly how much of the variance of healthcare costs that individual engagement accounts for.  A lot of good companies like Standard Chartered, who I mentioned earlier, they'll get to the point where they care about it for all the right reasons and the rest of the companies will get there for no other reason than they'll see the reduction in healthcare costs.  The more we dive into the research we're collecting, it might turn out that a person's manager is a better predictor of their overall health than the quality of their physician.
Margaret:  Many people are surprised when I tell them that your grandfather, Donald Clifton, wrote Now, Discover Your Strengths. What do you think your grandfather would have to say about your latest book?
Tom: Right before he passed away he sent an e-mail summarizing some of his best thoughts on the topic of leadership.  He typed a long note describing some of his key findings and that note was probably the best outline and skeleton that served to guide us as we were working on this book.   He had done so much research over the years and had a lot of good thoughts that just never quite made it to publication in his lifetime.  I'm sure he'd be glad to see the continuation of some of that work and how much we've been able to help more people benefit from his work.
Author's Personal Note:  Tom and I were classmates in the inaugural class of the University of Pennsylvania's Master of Applied Positive Psychology (MAPP) back in 2006. Part I of this interview is here.
Editor's note: Both parts of this interview are included in the Leadership chapter of the Positive Psychology News book, Character Strengths Matter.
---
References:

Rath, T. & Conchie, B. (2009). Strengths-Based Leadership. New York: Gallup Press.
Tom has also written other important books for people interested in strengths and love:
Rath, T. (2004). How Full Is Your Bucket? Positive Strategies for Work and Life New York: Gallup Press.
Rath, T. (2007). StrengthsFinder 2.0: A New and Upgraded Edition of the Online Test from Gallup's Now, Discover Your Strengths. New York: Gallup Press.
Images:
Teach for America, publicradio.org
Following is Part Two of an interview I conducted last month with best-selling author Tom Rath on his latest book,