On 8-9 May, the 3rd "Happiness and Its Causes" Conference was held in Sydney, Australia, with over 2,000 participants.
I'm a fan of the Happiness and Its Causes conference, and have attended every year since the inaugural conference in 2006. Each year it gets better and better. Next year's conference is already scheduled for May 14-15, 2009.
We heard from over 50 international and local speakers from diverse and distinguished areas: academic, professors, monk, psychologist, psychiatrist, researcher, health expert, medical reporter, scientist, CEO, financial analyst, neurosurgeon, child psychologist, school principal, newspaper editor, relationship expert, choir director, artist, philosopher, economist. Here are some of the topics covered:
Learning to be mindful: monks, scientists, academics, professors and university lecturers all reinforced the importance of being still, mindful and paying attention. Many did it by role modeling and having a calming effect on the whole audience. They reminded us to build moments into each day to rest, recover, and regenerate. Our way of being gives us the resources to deal with life's ups and downs. Mindfulness and attention are the key to mental balance.
The future of Australia's children
:
Steve Biddulph
entertained us all, revealed his inner child, and reminded us of the importance of nurturing our young.
Tal Ben-Shahar's
story of the incredible woman who inspired him,
Marva Collins
, reminded us of relentless optimism and tenacity in bringing the best out in children. (Tal Ben-Shahar is shown here explaining something to Richard Davidson.)
Martin Seligman
and Stephen Meek (principal of Geelong Grammar) stimulated us with 'what could be' in Australian education, and how Positive Psychology can change our children.
Michael Carr-Gregg
talked about 'rampant spiritual anorexia' in our children and schools, with respect to the consumerism, self-focused push of the current era. We were excited to hear that the Australian Federal Government is taking notice.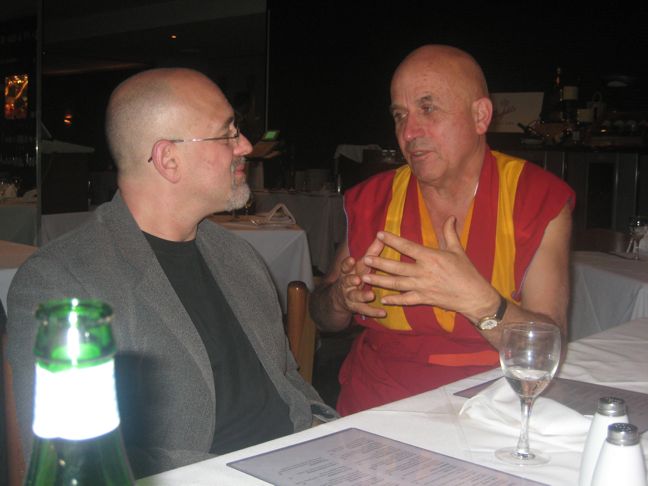 The Buddhist and the Scientist: a highlight was hearing from Matthieu Ricard (the world's happiest man, shown here at dinner with Dan Gilbert) and then hearing from Richard Davidson, the neuroscientist who is famous for his research involving measuring Matthieu's brain as he meditated in an fMRI machine. He found evidence that happy centres in the brain light up during meditation. Richard Davidson told us "I am committed to putting compassion on the scientific map".
Participant reflection: "I am even more aware of the inextricable link between the mind, brain, my reactions to the events around me, and my health (not to mention, my sanity). The research and evidence on neurogenesis and neuroplasticity gives rise to a sense of urgency to applying my mindfulness practice on a daily basis. The cumulative effect of such practice has enormous benefits."
Negative emotions: we have them, we work with them. It's not about avoiding them. "Do not allow them to persist beyond when they're useful" (Neuroscientist, Richard Davidson). Our mental training allows us to cultivate antidotes to negative emotions and helps us to recover more quickly from negativity. We learn to transcend our negative emotions, we do not allow them to define us. "It takes no more emotional energy to be kind than to be rude" (Dr Stephen Post). Don't be the slave of your own mind; happy people are not slaves of their minds.
It's for everyone: we all found that this conference helps us with ourselves, our families, children, friends, communities. It helps us to think about the grander policy issues, and how society could benefit. At work, we have new information to help build better workplaces. This conference gives us hope that we can institute some real changes for creating real, sustainable well-being for the country – now and into the future.
"It's not what you do, it's the heart you bring into it" (Dr Stephen Post)
Here are some of the take-aways from my friends:
"To me it comes down to some simple messages: work out what's meaningful in your life and engage and be joyful about it; give generously to others – connect deeply; stop the noise and simply be here right now. Love your life and be grateful!"

"My take home message was the recipe for a happy life which is to include the following daily- meditation practice (mind training), positive thinking, two pieces of dark chocolate, red wine and …[removed in case you have a strict firewall]"!

"There was extensive science and research that helped demonstrate the tangible differences that some really simple tasks can create."

"Being mindful of each other is the way to enhance and nurture social connections, and to bring the best out in each other."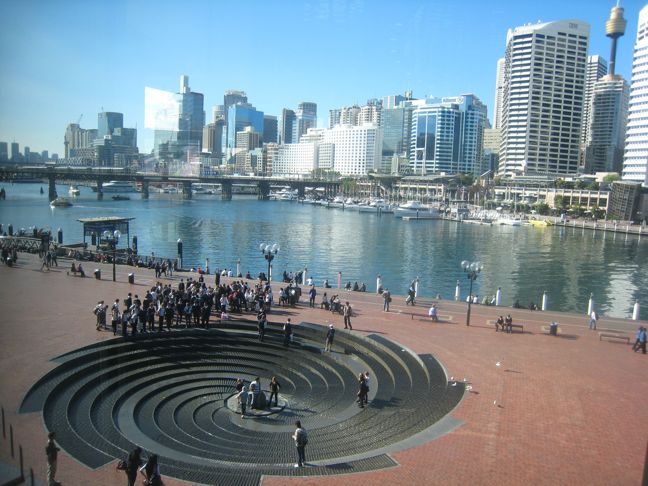 Darling Harbor, Sydney, Australia
---

References
Ben-Shahar, T. (2007). Happier: Learn the Secrets to Daily Joy and Lasting Fulfillment. McGraw-Hill Professional.
Collins, M. (1990). Marva Collins' Way. 2nd edition. Tarcher.
Davidson, R. (2012). The Emotional Life of Your Brain: How Its Unique Patterns Affect the Way You Think, Feel, and Live–and How You Can Change Them. Plume. (Added later)
Ricard, M. (2007). Happiness: A Guide to Developing Life's Most Important Skill. Little, Brown & Co.
Conference images are from a site with many more images of the conference participants and surroundings.